"A big advantage having the documents and the review in the same place"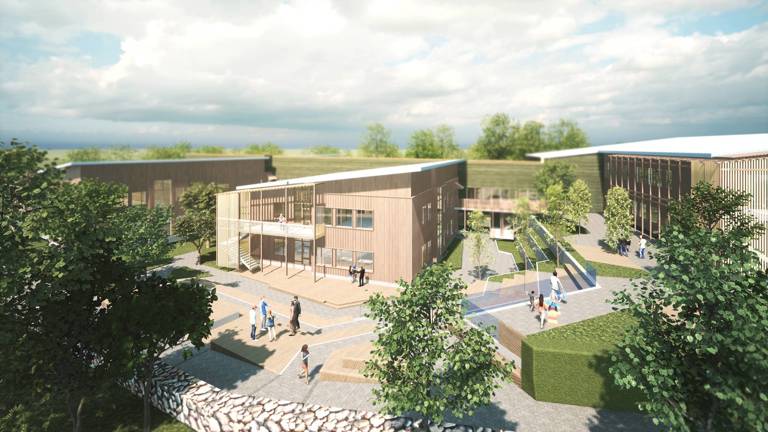 Ulricehamn Municipality is growing rapidly and last year passed 25,000 inhabitants. A new school is now therefore being planned, with completion scheduled for the start of the school year in 2025 and the cost estimated at SEK 320 million. Tobias Sävengård has been a project manager for this and with the help of iBinder he was able to efficiently gather together all the documentation related to the project and, not least, ensure good collaboration among all the relevant parties.
The new year F to year 6 school will be built to the east of the new residential area Stadsskogen and north of Grönahögsvägen. Tobias Sävengård led the work with finalising the design, and producing tender documents and building permit documents.
"It was an enjoyable and big assignment. The project involved people with expertise in a wide range of areas, such as architecture, construction, electricity, plumbing and HVAC, external water and sewage, landscape architecture, fire, acoustics, moisture, catering, accessibility and more. This required teamwork," says Tobias Sävengård.
In total, up to 25-30 people collaborated, reviewed documents and contributed their opinions. But not all of them were experts at building schools. The project also placed great emphasis on ensuring that those people who will eventually use and take care of the premises could also voice their views. So, educators, property managers, head teachers and kitchen staff were also involved in the work.
"Everyone who worked on the project was able to voice their opinion, regardless of whether or not they had previously been involved in such a review process. It is very easy to use iBinder and everyone can contribute directly without the need for onboarding," says Tobias.
In iBinder, everyone can add comments and make changes to drawings and documents. 
"For me as a project manager, it was nice to have the document management and review functionality in the same system. We were all provided with a very good overview and were able to follow the project in detail. Our consultants were able to look at and supplement each other's documents, which saved both time and energy while also reducing the risk of errors," concludes Tobias Sävengård.
Brief facts
Number of pupils: 550 pupils, including a special needs elementary school for 25 pupils.
Address: Kvarteret Sanatorieskogen 1:3 Grönahögsvägen.
Scope: School with a full-sized sports hall of approximately 10,000 square metres and a school playground.
Cost: Approximately SEK 320 million.
More information (in Swedish): Ulricehamn.se - Elementary school and special needs school in Sanatorieskogen.
Read more customer stories